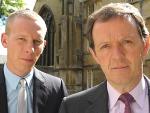 The fourth series of Lewis consisted of four new episode of the Inspector Morse spin-off series that were broadcast between the 2ND May and 30TH May 2010.
Series four of Lewis sees Inspector Robbie Lewis and his partner DS Hathaway investigating more murder mysteries against the glorious backdrop of Oxford.
Joining Kevin Whately and Laurence Fox is a star-studded cast including series regulars Clare Holman and Rebecca Front and guest stars Sophie Ward, Alan Davies, Rupert Graves, Nathaniel Parker, Diana Quick, Robert Hardy, Timothy West, John Sessions, Niamh Cusack, Nicholas Farrell, Juliet Aubrey and Stella Gonet.
There will be four exciting new episodes; Dark Matter (written by Stephen Churchett), Sudden Death Question (written by Alan Plater), Falling Darkness and The Dead of Winter (both written by Russell Lewis).